This is what Means the most to me=]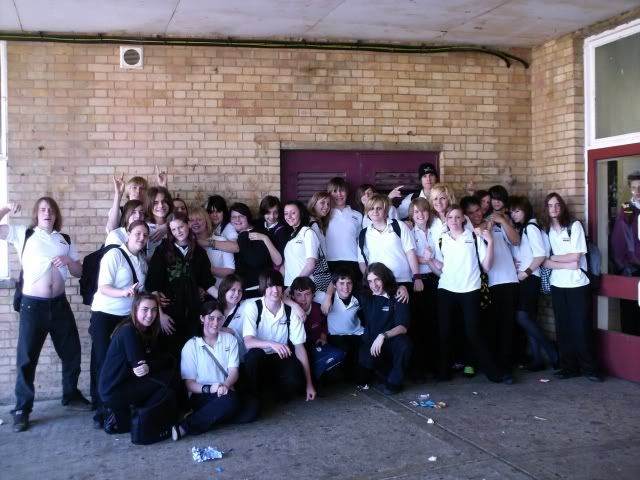 More of us.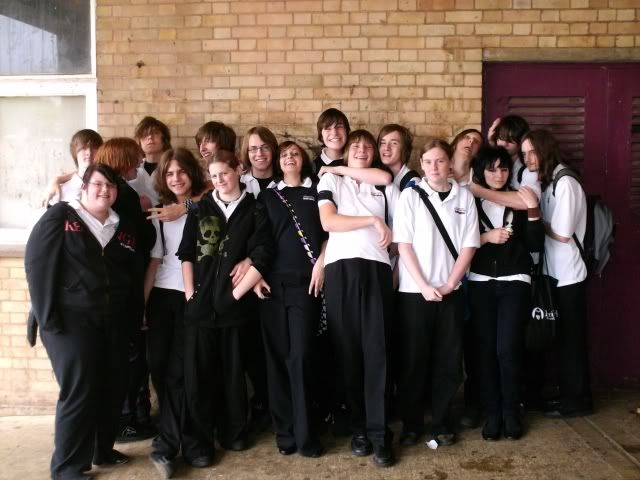 They are there for me NO matter what and this year I loose alot of them....Growing up Sucks......I want to take them with me for ever...These are my friends I love Plus a few more who skived the day =]
Short version of me.....
Stability results were low which suggests you are very worrying, insecure, emotional, and anxious.
Orderliness results were low which suggests you are overly flexible, improvised, and fun seeking at the expense too often of reliability, work ethic, and long term accomplishment.
Extra version results were low which suggests you are very reclusive, quiet, unassertive, and secretive.
What I am in short =/
messy, depressed, introverted, feels invisible, does not make friends easily, nihilistic, reveals little about self, fragile, dark, bizarre, feels undesirable, dislikes leadership, reclusive, weird, irritable, frequently second guesses self, unassertive, unsympathetic, low self control, observer, worrying, phobic, suspicious, unproductive, avoidant, negative, bad at saving money, emotionally sensitive, does not like to stand out, dislikes large parties, submissive, daydreamer.

More longer and explained version of me....
I am Sammi/Sam/Kirky/Captain/Scammi/Scam/Mrs/Smiley
I am the loudest person you will ever meet, I know alot more than you in ways you will never know, Ask me anything I will answer it.
I am Me myself and I, I am here for my friends and only my friends they are the Family I am able to choose and like,They are the world to me and I know If I ever need a hug or a smile from them they will be there, with out them I would not be here ← that sounds soo lame but is true, my wonderful friends keep me smiling no matter what, where or when It is. I ♥ you always and I am Truly grateful for your constant trust to me.
I constantly Think, I always step outside the box that we call society.
I am not an individual, No one is, we are but clones, I always ask questions and I constantly Experiment. I love to manipulate people and myself.
Ask your self this question, Is what you see really there and how can you prove it?
For everyone else sees things differently..
I do as I please but always with politeness, If I want to sit down I will no matter where I am, If I have the urge to do something I will, I am a randomer. have extremely Strange thoughts constantly, Usually Containing Death in some form: like could you keep twisting someone head till it poops clean off? or what would happen if the world stopped for 2 seconds would we notice?.
Life is a gift we all abuse, We are born dying to love life as you love yourself.
I deal with my problems first, your later.
I am anti-Violent, I get angry and keep it inside of me till I cry it all out..thats just me. I hate too much but love alot more I am obsessive and Compulsive.
I did cut myself but stopped for I found out It was hurting others.....
I love to laugh and I love to make people laugh,I want to be a FireEngine when I grow up.
I love metal FULL STOP what it does to me know one will ever know.
I am music.
I am Sarcasm.
I love to dance, I will dance any where, I dis-Like those who tell you to grow up and act your age. Why should I follow the norms and Values.....?
I am but a child and I always will be I act how I choose. We have very little time To live in the innocence of child hood and I plan to keep that for ever.
I choose to die in front of small kids and them be buried under the floorboards, I want to be forgotten then found.
I Love bold colors.
I sing loud and clear but all you will hear me singing is nursery rhymes..those who join in are praised, you sing loudly like me and you are worshiped...you don't and you DIE!! so simple.
If I hate you expect your death to be planned out with all the small details.
Grab life as it comes
I love Piercings FULL STOP .
I Listen To everything you say to me I am always here to help, But expect no Sympathy I don't Do SYMPATHY...It to me is hard like talking to others about my problems.
I enjoy a good old Mass debate with people...
I always get the last word in so DO NOT ARGUE WITH ME
I would love to meet the real me, for I am a mask to the world and myself.
I Believe in Fairness, You help me I help you, You kick me I kick you Much harder.
I understand too much and learn alot but I forget it all aswell, I don't believe in Dumbing yourself down to fit in, this world Is deprived of those that are truly smart.
I have an irrational Fear of Crumpets, I CAN NOT BE NEAR THEM WITH OUT FEELING ILL and sponges its the holes *shudders*
I DO NOT CYBER...........EVER............NO...........Its like getting thrills over a keyboard, how do you have "it" on a computer, LOSERS....Just stick to plain and simple Sex with someone you HOPEFULLY love...............Ergh I also DO not do "cams" I never Flash on cam Unless I am under the EXTREMEST influence but that shall never happen.......Pervish people Should Piss off and get a life, "oh you are sexy want to cyber?" My answer N-Freaking-O Not now not EVER!
I have made Sneezing Ileagal as I cause injuries to myself......I am Clumsy as Fleck and well you will get used to it....
I change more than anything in this world...My Looks tastes and life changes.....I like alot of things I am too Open minded and it is a curse I live with....So by all means Discuss your views with me but do NOT attempt to Change me for your own self....I change for me and me alone.....I am not Selfish I hate to hurt people....I don't care about myself...but I do not do anything I do not like or want to for you.....I am always trying to make people smile....always trying to make everyone happy..because thats how I am......I was taught to think of others before my self....I always think ahead about what I am going to say and I am Very Self judgmental.....I hate myself but theres nowt in any world you can do about it.....
I can't Puke.....
I find everything fasinating....I find the body Fascinating and how far it will go.....I love to push myself....I am Too easily amused....and I laugh alot...about things...no one will understand....My Humor is Sick and Twisted....
I have very Severe Mental Issues.
I am Borderline Bi-Polar
I always listen to the guy in my head he tells me I am a bad person and that I am the reason people are sad.
I always seem to refer to myself or anything in the male form.....I love the name Lord....=].
And for all those who Actually Read this......I might have just lied to you all!.
More to come...
My Music : Huge Ass lost I am sorry.
I Like: H.I.M,(old) My Chemical Romance, Linkin Park, Good Charlotte, C.K.Y, Marilyn Manson, rammstein, Seether, Tauracine, Trivium, Atreyu, KoRn, (old)Lostprophets, Sum41, The Used, Aiden, Cradle of Filth, system of a down, the rasmus, velvet revolver, guns'n'roses, iron maiden, thrice, blood houndgang, Nightwish, Bullet For My Valentine, Road Runner United, Rise Against, Story of the Year, Disturbed, Coheed and Cambria, Wednesday13, Nirvana, Funeral for a Friend, Papa Roach, Institute, Offspring, Puddle of Mudd, Bowling for Soup, Evanessance, Lacuna Coil, Andrew WK, Dragonforce, Audioslave, Soundgarden, Blink182, Alkaline Trio, Jimmy Eat World, Orgy, Aerosmith, Fort Minor, Sean Paul, Green day,OPM, Clutch, Ash, Prodigy, Placebo, Feeder, InMe, Wheatus, Avenged Sevenfold, fall out boy (one song), Team Sleep, Glassjaw, Incubus, A, Octavia, Hawthorne Heights, Hed p e, P.O.D, Murderdolls, Mushroom Head, Alexisonfire, Alice in Chains, Brigade, Weeble, Yello Snow, Flick66, State of Freedom, Arch Enemy, InFlames, Rob Zombie, L.A.M, Deftones, Tool, Children of Bodom, The 69 Eyes, Apocyliptica, Mastadon, Machinehead, Spineshank, Everclear, SlipKnot, Deathstars, Panic cell, Drowning Pool, Pantera, Shadows fall, MuDvAyNe, Hundred Reasons, Mortiis, Still Remains, Opeth, Underoath, Fear Factory, Skindred, Soretooth, Matricyde, Stonesour, Killswitch Engage, AFI, Early Grave, Smokescreen, Type O-Negative, Dope Stars Inc, Saytricon, Megadeath, Slayer, Billy Talent, Wednesday 13's Frankenstien Drag Queens From the Planet 13, The Cure, Stone sour, D'espair Ray, Combichrist, Zeromancer, A Perfect Circle, Lords of Acid, Razed in Black, T3CHN0PH0B1A, The BLackout, Eighteen Visions, Take the crown, Biohazard, Metallica, Velvet Acid Christ, Skinny Puppy, Dope, Van Halen, Behemoth, Our Lady Peace,Matchbook 20, Redemption, [Spunge], Rancid, Mendeed, Betty Curse, Necrophobic, Cannibal Corpse, Three Days Grace, Dimmu Borgir, BlackStone Cherry, Saliva, Bon Jovi, HardCor Superstar, SPineShank ,Head Automatica, Dope, Hellogoodbye, The Cruxshadows, Coal Chamber, Black Label Society, Gamma Ray, Man-O-War, Amorphis, Theater of Tragedy, Ill Nino, Reel Big Fish, Porcupine Tree, VNV Nation, Godhead, Brand New Sin, Lennon, P!nk, Walls Of Jehico, Sister's Of Mercy,::wump::scut::, DevilDriver, Ratt, Moonspell, and many, many more!!!! i also like some more older rock such as Def Lepard and Led Zeppland, Pink Flloyd, all this music is like a drug i find it hard living with out it!! It's my life,soul and the very air I breathe..