I am here to write and injoy the darkness that is filled with the eyes of those like myself.
My name is something that only those i trust will ever know, til then all may call me Oomai.
As for those that wish to know what i like and don't like, i will say that i like- juggalos and juggalettes. I will rate them if they ask. They can even add me just tell me so i can add them. I dislike- liers, guys named Steven, James and Zachary. If you wish to know more about me , dare to ask me. But i warn that if i don't like you i will not answer you.
may the Goddess bless you on this night.




i found thiis to be cute:
The Great Archives determine you to have gone by the identity:
Thyme West
Known in some parts of the world as:
Curse of New Orleans
The Great Archives Record:
One of filligree and manners.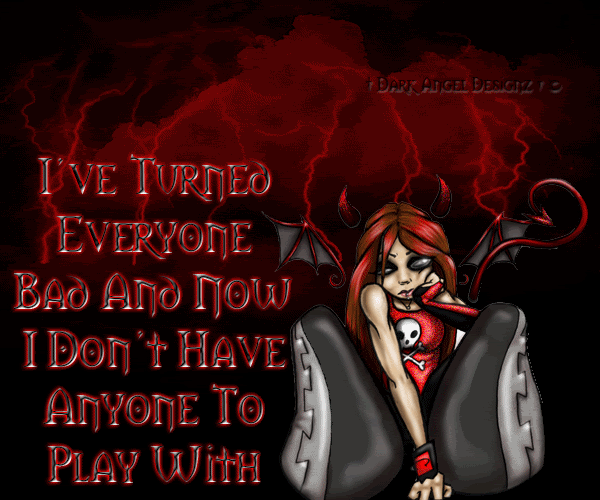 Comments - Graphics - Layouts - Photobucket


Comments - Graphics - Layouts - Photobucket
Brown
You chose brown.
This eye color is the most common out there.
Its meaning is that the person with brown eyes would be most likely to be kind and warm, also caring and full of love, passion is in their hearts also have a soft heart as well so they can be easly broken hearted. Love is the main thing they would desire and cannot live with out, they also can have a great artistic imagination as well have a good mathmatical memory as well. They love to help others and love being with others. They also love to meet new people and make friends. They have also been known to be the most romantic for lovers as well. These are also know as the softest but kindest and most trusting eyes! They also say that brown eyes can also predict certain events tho the user might not relise it right away. They are also known to read others feelings better than any eye color known.
What's your inner spirit?

Wolf
You are faithful and cautious. You tend to run with a group of others and like to have others around you. You are brave and also gentle.
How do you compare?
Take this test! | Tests from Testriffic
Gangrel
Of all vampires, the Gangrel are perhaps closest to their inner nature. These nomadic loners spurn the constraints of society, preferring the comfort of the wilderness. How they avoid the wrath of the werewolves is unknown; perhaps it has something to do with the fact that the Gangrel are themselves shapeshifters.
What is your personality's blood type?
By Just Ann


Comments - Graphics - Layouts - Photobucket
You are black blood!
Your heart stopped years ago, leaving your blood to rot within your veins -- turning it black. You are a vampire, roaming the night in search of love, revenge, or the live blood you do not posses anymore.
What kind of Eyes do you have?

Eyes of Passion and Fire
You have the eyes of passion and fire you can give one look and someone know exactly what you are feeling or what you want in most cases you are the party type you live for the moment and dont give a F**K what anyone thinks because in your world they dont exsist only the people you want to do
How do you compare?
Take this test! | Tests from Testriffic
Evil Vampire
You are an Evil Vampire. Intelligent and cunning, you enjoy toying with humans before killing them and drinking them dry. You have perfect senses, meaning you can hear anything up to half a mile away as if it was right next to you, and see perfectly for up to five times as far as a human could, as well as in the dark. You are the ultimate predator