Hello i'm Shay i really dont know what to say about myself... well im 5'8" woot! brown eyes, black or brown hair... maybe both?. Ive gots 1 preicings and a zero guage in each ear.. i did them myself im soo proud! PLease dont judge me, I dont want to be pushed with steriotypes... im not like the rest of the world... i am me! but if i would "group" myself.. i would say im im 10% juggalette, 10% hippy, 10% metalhead, 10% freak, 10% proud geek, and 50% confused! AHHAhahahaa IM A VIRGIN AND PROUD OF IT!!!!!I love my friend they are who i live for, love you bunches ....
I may love my friends, but this heart is dead to all of those who try to enter it. I cannot give love to those who want to be in love with me. I have been broken, stabbed and stepped apon. As pick up the shards of my broken heart, black and decayed, all i want is that emotion i felt with him, so bright and warm, but its nothing now, cold and distant. Hate is my love and i charish it.
The Vampire community and idea has change my life ever since i was younger. The thought of living forever, the sexuality of it, the night creatures, it all made me fall in love.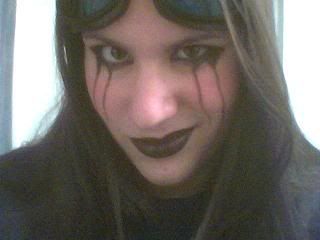 my favortie music is Oingo Boing (danny elfman *faints*), Rammstein, ICP, Godsmack, Mushroomhead, Lamb of God, Metallica, Disturbed, KoRn, The Doors, ACDC, Slipknot, Alice Copper, Flogging Molly, Marilyn Manson, Shinedown, Cradle of Filth, Kittie, Guns 'n' Roses, INXS, White Zombie (rob zombie.. you know blah blah), Judas Priest, Alice in Chains, coal chamber, Tool, Drowing pool, Superjiont Ritual, Nine inch nails OZZY, Slayer, and what ever eles i feel like listening to.
Likes:
DOWNWARD hey hey.... respect this guy, Danny Elfman, Tim Burton, Johnny Depp, eyeliner (and guys who wear eyeliner(thanx for the reminder tatiana!)), black nailpolish, studs and spikes, silver, leather, and comedy! I love to laugh, sick jokes are the best! Anything to do with Vampires and Werewolfs, I LOVES ME HUGS!!!, faygo, god this is hard, video games are fun... ooo halo. Johnny the Homicidal Maniac, Squee, love art, drawing, painting, playing guitar, dreadlocks, Insane Clown Posse, the moon such a beautiful bright figue in the dark night sky, foamy the squirrel, happy tree friends, and the crow. BADGERS (i poke badgers with spoons)! Im planing on being a tattoo artist. Carnivals and clowns. OOooo and I loves me my music, needles, weapons woot, Im such a pyro (fire.. ehhhhh), walking in the rain
Dislikes:
I loath pop music, it sickens me. Same thing country and rap, awe look what I did, I just puked in my mouth. I hate the human race, people who judge me before they know me. Clowns, I know I love them too, they scare me, so going to have a room full of scarey ass clown shit. Ah goose bumps. That reminders me teachers who smile too much, God thats creepy. Wangsters, there is no ghetto in New Hampshire, so whats the piont? Arg pink, Richard Simmons, the sun, people who take their religion too seriously, when people chew with their mouth open (sry about that), Captain Fat pirate of Fatopia a.k.a my brother, Hey dont get me wrong i hate being judged so respect those people for who they are, I like you until you do something like if you fuck with me or my friends I'll do a little more then just judge you! i dont like to be alone... im afriad it would stay that way! DID i say preppies ahh i cant remember... and most of all God, Love, and myself.....
Ummm soo if you want to chat... chat it up man!
Cna yuo raed tihs? Olny 153 plepoe on mepysca can so far. i cdnuolt blveiee taht I cluod aulaclty uesdnatnrd waht I was rdanieg. The phaonmneal pweor of the hmuan mnid, aoccdrnig to a rscheearch at Cmabrigde Uinervtisy, it dseno't mtaetr in waht oerdr the ltteres in a wrod are, the olny iproamtnt tihng is taht the frsit and lsat ltteer be in the rghit pclae. The rset can be a taotl mses and you can sitll raed it whotuit a pboerlm. Tihs is bcuseae the huamn mnid deos not raed ervey lteter by istlef, but the wrod as a wlohe. Azanmig huh? yaeh and I awlyas tghuhot slpeling was ipmorantt! if you can raed tihs rpsoet it. ONLY REPOST IF YOU CAN READ THIS...Ithought yall would like this!