With upon recently getting my hands on a borrowed camera I have been able to take more pictures of some past work.




This piece is of a still life that I once did in water colors. The size is about 17 x 22 inches which is 432 x 599 mm. It's one of the first times I had started using water colors and the paper is water color paper. Which means it's a bit rough. To quote my art teacher of the past, "Have you ever used water colors before?" Me- "Not really, I'm raw with it." Him-"I think you're better with water colors than you are with drawing."

At first I was a bit insulted. Then I realized he had a bit of a point. This piece was soft yet strong and beautiful.


The next few works will be about one project in which I was using ink. The kind of ink they use for comic books. It was a few of my first attempts to use pen and ink and I rather like the feel. Having been my first works in it, I used washes as well to vary in taste.




This work would have a caption of "Cat got your tongue?"
I used red ink as well as black and some amount of cross hatching. Though the cross hatching looks like shadows with this low quality camera. Gives off a bit of innocence from the cute gray and white pawed cat, I think. Then again I enjoy how it only takes up one side of the page in design.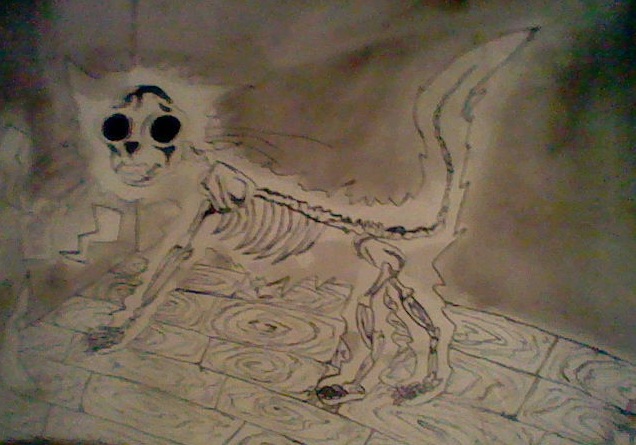 This last one is "Curiosity killed the cat." It was based on a story my mother once told me of one of her old cats. Only in the picture, the cat has his paw stuck in a light socket and he's being shocked. Took a bit of bone research to make this. The kitty skull is pretty. Just look at those big wide spaces for the eye sockets.



All pages by TheArtistRose
Page last updated: Aug 07 2011


---
REAL VAMPIRES LOVE VAMPIRE RAVE
Vampire Rave is a member of
Page generated in 0.065 seconds.