by
nips

Recently Matt and Roe adopted a dog from one of those adoption agencies. We have our girls, Scooby's girls but we missed our little man. Woody was a welcomed addition to our home.Dave often said he was surrounded by only girls. Girl dogs and girl cats! I am surprised that momma Roe didn't make a member page about Woody.So "grandma' is.

Anyway, Woody has an interesting story. Before he came to us, he lived in prison in the work release program. He lived in the big house. He was in a program that the inmates trained the dogs as a form of professional skill when the inmates were released so they could find jobs.

Perhaps that explains Woody's aversion to getting his picture taken. Too many mug shots. Reminds me of a daddy story about tatts. No marks showing that the police can see! Did daddy have a shady past?

The minute Woody sees a camera, he runs like a prison break. Dave has managed a few shots. Roe has been keeping in touch with Woody's prison mates on Woody
updates. She sends what few pictures of him as well. At least those that you sneak on him.

We probably need spy cameras for him. Even in doggie daycare, he knows there are video cameras on so he hides under the stairs.

I have a few grandma shots coming soon. We have to take pictures on the sneak.



Got one of the little man! You have to be very sneaky!





I think his time in prison has given him some issues. He doesn't like loud noises or plastic bags. Wonder if someone tried to snuff him in the big house. Poor guy was tramatized .







It is almost a year and Roe and Matt are collecting photos and videos to send to Woody's prison mates. Good luck with that. After taking this photo he wouldn't go near Lib for the rest of the night.

We are thinking that Woody was abused. If you give him a nacho chip, he runs like hell like you are going to shank him with the sharp point. Poor little guy. Hope he will feel love here to mellow out. Hate to see so many emotional problems.

I guess prison does that even to dogs. We noticed he wigs out if you sneak up on him. Again, I say it was prison life.

I watched him on doggie web cam at his doggie daycare. He hid against the wall in the blind spot. So weird!

Photos on the sneak don't always come out well. This was under the table at a game.





Here is another sneak picture of Woody at our zombie party.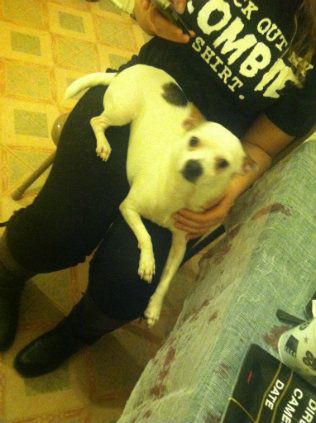 They were able to sneak some pictures at the doggie day care of Woody. He looks like "oh god they got me" here.






"Now they are just messing with me".





He is in hiding-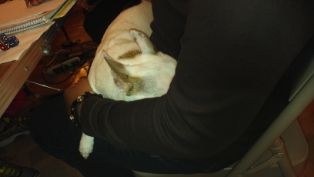 More pictures, when will they stop?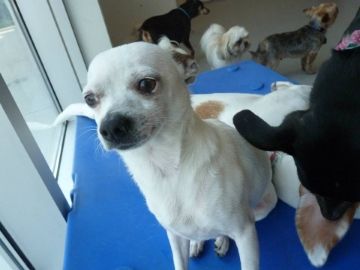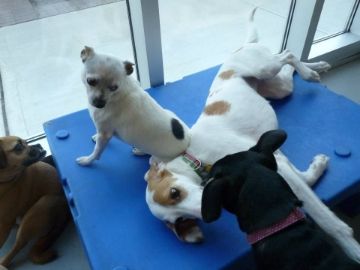 It's a hard, hard life! I deserve it after Hard Knox.







Got You!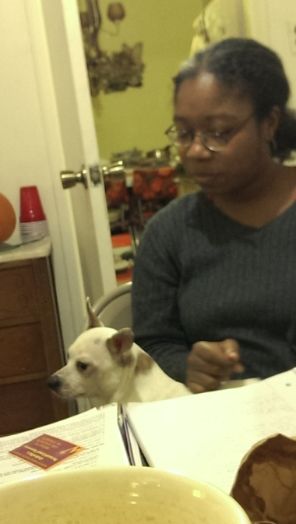 Woody has been a great guardian and protector after Roe's surgery. He is just a great little dog. Grandma adores him. He loves grandma visits.


Woody and nugget





Woody has a new friend at doggy daycare. His name is Wheels and he moves on wheels. Awesome little guy.



All pages by nips
Page last updated: Jun 21 2014


---
REAL VAMPIRES LOVE VAMPIRE RAVE
Vampire Rave is a member of
Page generated in 0.0508 seconds.