Bullying is not only limited to face to face harassment. It is also dished out over the internet every single day. Some people find it funny to tell another person that they are ugly, fat, worthless, etc. IT'S NOT!

Bullying has become a big issue in the news and in schools in the past few years. Many teenagers have been victims of bullies to the point where suicide was their way out.

Bullies don't understand how much power they hold over someone, but they can hold NONE if people take a stand.

Everybody has been a victim of bullying at one point in their life. It doesn't have to be physical harassment. It can be sexual, verbal, cyber, or silent. You're probably wondering what I mean by silent harassment correct??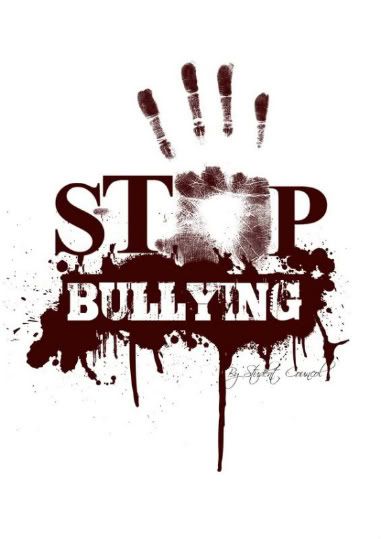 Silent harassment is when a group of people ignore another person to the point where that person feels neglected, unwanted, and unworthy. Ignoring a person just because you find it funny is WRONG. It can lead to attempted or successful suicides.

Verbal harassment is when a person tells another person to their face that they are ugly, fat, stupid, etc. There's a saying that says, "sticks and stones may break my bones, but words will never hurt me". In reality, words can cut deeper than a knife. Verbal harassment is one of the top most abusive harassments that bullies use. The saying, "If you have nothing nice to say, say nothing at all" needs to be practiced more.

Physical harassment/bullying is just as it says, PHYSICAL. That's when, obviously, someone either hits, kicks, slaps, pushes, or trips another person. Bullies find it funny, but it's not. It hurts physically and emotionally. You can break a person's bone. Stop with the abuse.

Sexual harassment is when a person (male or female) makes rude degrading comments about someone such as "I want to rip your clothes off" or the simple words "I want you". These make people feel uncomfortable. Especially in the work place. Co-workers are the worse for sexual harassment. Instead of telling a person they are sexy or hot, we need to learn to use the words "Pretty", "Beautiful", "Gorgeous", "Handsome", "Attractive", and "Cute" (yes I know that applies to younger boys).

One of the WORLD'S worst type of bullying is CYBER! That's right....people bully other's over the internet. They think just because they aren't telling them in person that it's not considered bullying. It is!!! Those people that you slam on the internet can sit there and re-read what you wrote OVER AND OVER again until they are sick. So stop!

People don't understand how bad bullying is or they say, "you are over-reacting" NO THEY ARE NOT! They are acting as they should.

I have personally been a victim of bullying, but instead of letting it get to me, I brushed it off and realized that the bullies were jealous of something I had. Or they just thrived on putting others in pain due to their own insecurities.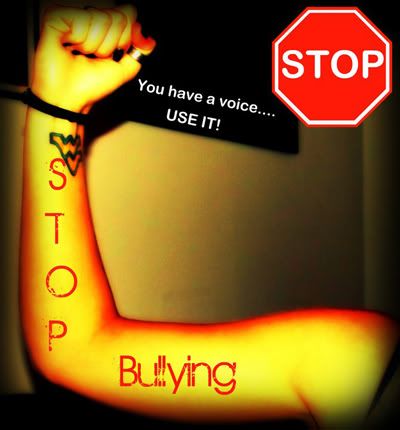 Bullying will ALWAYS be an issue. There will always be victims. I believe that it will never stop. But we can take a stand in stopping ourselves from becoming bullies by these few simple suggestions:

1. Instead of saying something negative about a person, say something nice.
2. Instead of retaliating on someone just because they did you wrong, ignore it.
3. If & when someone says something negative about you, simply either 1. Walk away or 2. Say thank you with a smile.

We don't have to worry about what those who don't like us have to say about us because there are people out there that find us beautiful, smart, funny, and worthy. Just because a few disagree doesn't mean they are right....they are WRONG!

And if you have been a victim of bullying, don't be afraid to talk about it. It's how people cope. And if someone comes to you and tells you that they were bullied, don't think of them as a liar because they more than likely were bullied.