OjciecEchem-



We might as well just rename this page the information about CryptOrchid.



This member was sent to us because he is about as useful as tits on a boar.



I am sure some of you remember these names:

FreeBird

LordLestat

fundamentallyloathsome

SinForcer

Cryptorchid

SophieLancaster

NEMESIS44

neromustdie

fckrzr

mechanicalanimal

WickedHell

strangeone

DamaEchem

Extra



I am sure this list isn't complete. There are many more names that cannot be recalled at this time.



Let us start the first installment of this page with the memories of violence. After a few years hiatus, when all was quiet on the douchefront, he came back and it was a quick learn that he was away because he decided that comitting violent acts upon a women was the correct route to go. This landed him in a wonderful vacation spot in a room that was probably four foot by nine foot and 'bite the pillow I'm going in dry' was the common line in foreplay.



From that point on he has been a big nusience on Vampire Rave. He has been dishonest, manipulative and a flat out pain in the ass.



He had the nerve to ask a House Master to trade over the women he commited the acts of violence upon so he could have her in his Coven. With the history between them being common knowledge, she flat out told him no and he threw a tantrum.



He then became interested in a member in a Coven. He was quick to use his dishonesty and manipultion in order to gain her. Yet since people were aware of how he is, they questioned him and it came out true. These are the converstations:



(Some names have been edited out for their sake)

After seeing WickedHell in our Coven Obscurity sent a few screen shots of interactions she had with this member.






This one we will label- The Liar.



Obscurity told me there was no communication between him and the Master of the Coven he was trying to gain a member from. He had sent a message and the CM had never replied.

And yet here he comes again.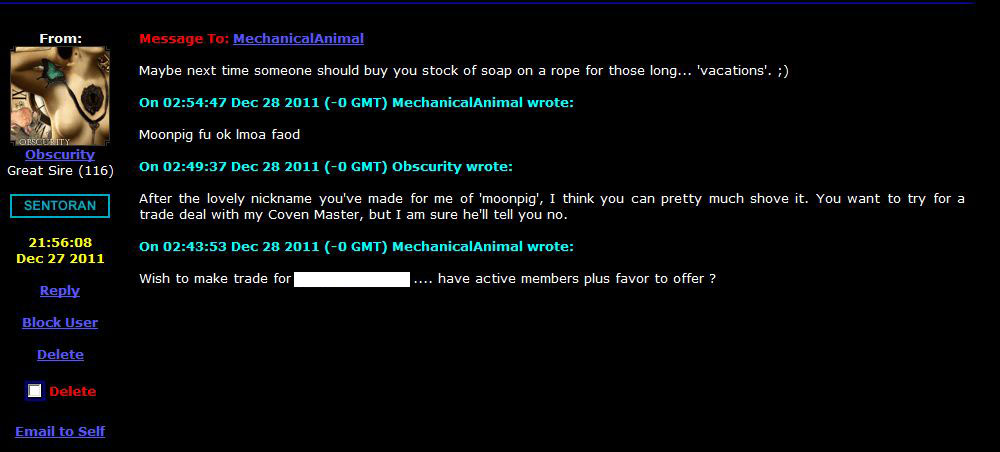 And then there was the final one she sent me. This one is just beyond funny. It seems that when he gets rated a 1 and blocked his status goes down and he cares. Aww poor him.









I am sure some of you remember the love affair he had with a certain member here. It was said that he 'stole' her profiles and Coven and even sold some of them without her permission. Oh yes, what a winner he is!



And he was also the Master of the Coven of Sin. This Coven was disbanded for multiple reasons. One reason was he out right told his members to ignore what the Regent told them. He decided to run his coven as a tyranny. Because he is nothing in the real world, he decided that having some superficial power on a website made him important. He told his members that if they did not dishonor who he said they would be blinded.



The tale just could go on and on but I am sure you get the point.



He has been verbally abusive to members of staff.

He has went as far as leaving vulgar comments in their journals calling them 'a cunt'.



And then he has left insulting comments with ratings:




Both of these ratings were left with a rating of 1. Because we all know on a website how the power of a 1 means life or death.



I am sure our tale can continue and will continue with this member. It is pretty obvious that very few people are a fan of his. Perhaps a VR suicide would do him wonders. I am sure it would be better than watching him on cam slurring, sleeping and listening to him ramble on about the drugs he's doped up on.



If you have anything to add about this member, feel free to contact me.
REAL VAMPIRES LOVE VAMPIRE RAVE
Vampire Rave is a member of
Page generated in 0.044 seconds.