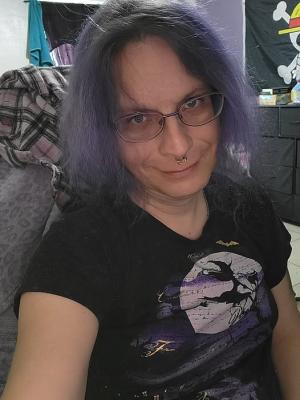 THIS JOURNAL IS ON 274 FAVORITE JOURNAL LISTS
Honor: 71 [ Give / Take ]













8 entries this month


Everyone seems to do this one. So I might as well

06:27 Mar 25 2010
Times Read: 802





Joined the 666,666 club
I've joined twitter. God/Goddess help me.
00:24 Mar 24 2010
Times Read: 806
http://twitter.com/FizbopsTwitt
My Nightmares
00:27 Mar 20 2010
Times Read: 827
According to people, I've been fighting something in my dreams and stating no to whatever I'm fighting and for it to go away. It's to the point that I'm starting to growl at it in anger and getting angry by punching the place I sleep on. It's not adding up to me what this dream is about or nightmare. I'm fighting something or someone ...



What am I fighting? I don't know...



What am I growling at ? I don't know...



What is the dream regarding ? I don't know...



Why am I punching the place I sleep in ? I don't know...



To the point i'm getting deep scratches on my back which i'm not sure how they are getting there.



Rant 2
00:17 Mar 09 2010
Times Read: 873
The forum.



Why is it barley anything of interests is ever posted in the forum. I'm tiered of threads that were log ago posted reemerging. Seems to me no one has any really good ideas for me to post on or something that can really hold my interest.



Someone come up with something please.
Stuff.
00:15 Mar 09 2010
Times Read: 874
Seeing the same people in and out of the Rave, makes me wonder if it's still got what it used to. Seems that it maybe fading off into dust with the same 380 people that are always on are on. New people end up deleting and pouting cuz they can't get in the coven or house that the were promised to even though the promises ARE NOT guaranteed. Yes it's nice if other respected it. But the supposed vampire way isn't respected on the Rave, the supposed Ultimate resource and Directory.



Fact covens, or houses usually always respected members that were held in promise to another coven or house. But reality a system like that wouldn't work here because any house or coven would have to do is tell the person here stick this on your profile to anyone who signed up right away and than no house or coven other then maybe a few would have members. Well maybe more than a few.



There are far too many covens for the average members that log onto vampire rave, out of 12887. 380-400 maybe 500 sign on to the rave, Yes maybe more people visit anoyomously. Not log on. This is in regards to those that actually log on.



So I'm wondering is Vampire Rave loseing intrest when the flux of new people out of maybe 16 that join 1 or 3 stay and 2 of those end up deleting cuz of the non respect given to members.



Makes you wonder.



Pointing out Facts that may get me blocked.
19:33 Mar 03 2010
Times Read: 912
BlackMasquerade's Journal entry to any one else that wishes to read my comment.



QUOTE " OMG! well I have been online like 15 min and 2 people who wanted in my coven got forced inducted to other covens and self deleted, this is why it is so nice to actually ASK* a person if they want to be in your House or Coven OMG! that is so sad well I see No one wants to respect teh wishes of others and force induct. Sad.



I know it was how we had always doen it back in the beginning yet, now I figured the Masters would respect members and their choices and well I guess I am wrong I do not force induct anyone why get amamber that does not want in your Coven, is beyond me.



Well 2 members gone from self deletion and that is sad with all the work one puts into a profile and 1 was a premium wow...



Life on VR keeps trucking along . LOL"





My comment below.





Fact, No member has a choice where they go, No matter what someone may always snatch them up first they really need to read the FAQ.



Seems people forget to read this tidbit of information. No member can choose where they go period. With the exception of sires. You have to realize that even if they say they want to go into yours that may not happen.



Other masters like myself usually a bit more lenient about trading members that don't wish to be in our coven. Not all of them do that. FACT remains YOU DO NOT HAVE A CHOICE WHERE YOU GO....



If your going to be on VR you really need to learn that.



No offence was meant in the writing of this comment. Just pointing it out to you.

Am I Intelligent or is it just something I Imagined.
03:08 Mar 02 2010
Times Read: 943
I don't feel very intelligent lately. I recently been on a downfall of not thinking I'm as intelligent as I assumed I was. I don't know what's wrong with my brain as of lately just seems not to be firing on all cylinders. I feel that my lack of articulate words are escaping me. I used to be far better at certain things and or events now I just suck. Maybe to be contributed to the lack of anything that really requires the full use of my brain. Someone tell me I'm smart. I really need that right now. And yes I just failed the acolyte test yet again. I really want to be something more than I am here on the rave. I don't know if Cancer will see fit to place me anywhere after I just basically gave up on the database management. I just didn't have the time to focus on it. I'd rather just watch the box constantly at least I'm on there enough to watch it.



I'm more Geek I guess than a Nerd, My knowledge of comprises off of Star Trek. It's what I know very well. So how was I even intelligent in the first place makes me wonder.
Stuff.
02:22 Mar 02 2010
Times Read: 950
Well It's March... Took damn long enough, winter seems to be drifting away. Knock on wood. It's been really decent despite the few storms and wind-chills we had here. Got new plates for the car, it still needs work, I think I should be able to get the car down and in prime again. It decently needs a tune up.



I really need a break from school, I'm going nuts and everyone's at each others level of tollerence. I'm guessing the administration doesn't give a rats ass about burn out. Most of the classes didn't go all the way to 11 pm thank god though there were times it had to due to the holidays.



Final Grades will be posted as soon as possible. I need to learn to draw again. Hopefully my friend will be able to assist me with that. Need some supplies as well from Michaels to get from there.
REAL VAMPIRES LOVE VAMPIRE RAVE
Vampire Rave is a member of
Page generated in 0.1353 seconds.