Challenge me, will you?
23:01 Apr 27 2011
Times Read: 962
For Joli – because when she threatens me with banging her erasers, what else can I do but strive for extra credit?



Maybe I can't keep up with Thoth, but I can make this using my own unique….



…my own unique….



(Idiom, sir?)



IDIOM!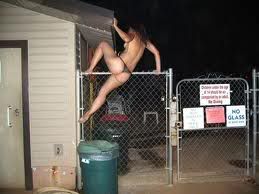 What did I do?
I wish that I knew.
I'm naked and drunk
Drunk as a skunk.
And where are my clothes?
God only knows.
But again, here I am,
Climbing up on this can.
Naked and drunk.
My mind in a funk.
They say that I'm easy,
And perhaps a bit sleazy.
They say I get around,
All over the town.
Maybe they're right.
Can I deny it after tonight?
Doing shot after shot,
And smoking so much pot.
And who was that man?
All I felt were his hands.
My clothes are all gone.
Everything seems wrong.
No purse. No house key.
No one to help me
Climb over this gate.
How did it get so late?
Where have I been?
Whose car was I just in?
At least I have underwear this time
Wait. Are these even mine?
This fence I don't recall.
Is this even my house at all?
I'm glad no one will see this.
Because I really need to piss.
Oh no!
Are those eyes I see below?
Whew.
Just an armadillo…