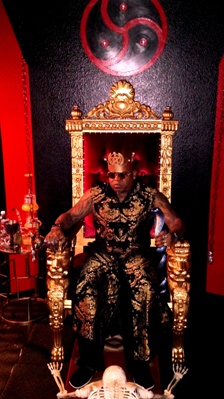 THIS JOURNAL IS ON 368 FAVORITE JOURNAL LISTS
Honor: 1,442 [ Give / Take ]













13 entries this month


23:14 Dec 29 2014
Times Read: 934


You ever wonder do Lesbians stay inside and play with their own breasts? Hmmm

18:26 Dec 29 2014
Times Read: 943





Somewhere through the ages of time, this became the silent message for, "I'm sorry", "Can I buy ___", "Will you please ___", "Come on, you know you can't stay mad at me" and "You'll miss this when I'm gone." ^_^




17:19 Dec 29 2014
Times Read: 953
Many men while having sex with a female are smiling to themselves saying silently in their head, "Thank you, Thank you"....am I the only one that smiles AT the female saying silently in my head, "You're Welcome"?
05:18 Dec 27 2014
Times Read: 974
Foreplay starts in the mind

I'll make your brain squirt

And your soul quiver...
05:19 Dec 25 2014
Times Read: 981
I've never believed in Santa

I don't celebrate Christmas

I think I'll watch some movies

I hope they show some boobies
03:57 Dec 24 2014
Times Read: 997
She's so sexy and her voice sounds like an Angel. I just want to f*ck her esophagus.
00:38 Dec 19 2014
Times Read: 1,016



I'm just going to throw this out there because I'm a guy and I'm me and I just DGAF! If a female is going to take the time to put on something skimpy and very tight and then cover up nipple and vagina imprints....What's the point? I want to see a female with female parts, not a female with Barbie Doll parts. Hahaha!


It's sad when Mannequin Displays are looking more feminine than real females...lol


01:57 Dec 08 2014
Times Read: 1,025
Oh it seems to me this whole world's gone crazy

There's too much hate and killin goin on

But when I see the bare chest of a woman

My worrys and my problems are all gone

No one thinks of fightin, when they see a topless girl

Baby if you would show yours too, we could save the world


Show them to me, show them to me

Unclasp your bra and set those puppies free

They'd look a whole lot better without that sweater baby I'm sure you'll agree

If you got, two fun bags,

Show them to me
05:45 Dec 06 2014
Times Read: 1,041



Wait, What? LOL!



05:12 Dec 06 2014
Times Read: 1,045
A man buys some cowboy boots, rope, baby lotion, nipple clamps, a mouth gag, some whipped cream, and some pineapples and people look at him sideways....
REAL VAMPIRES LOVE VAMPIRE RAVE
Vampire Rave is a member of
Page generated in 0.2335 seconds.