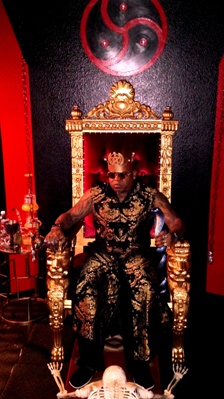 THIS JOURNAL IS ON 379 FAVORITE JOURNAL LISTS
Honor: 1,323 [ Give / Take ]













12 entries this month


22:12 Mar 30 2022
Times Read: 54







05:01 Mar 29 2022
Times Read: 69


Greetings,

In this Episode, I sample 4 New Strains as I simply Sesh and listen to music for Endorphins.


Enjoy!

____________

MED DEVICE(S):
Zong Themed Medicating Device

____________

MEDS:
Blueberry Shortcake - (Hybrid/Indica Dominate)
Rainbow Cake - Live Resin (Indica)
Peanut Butter Breath
Pre-Roll - OG Kush

____________

MUSIC CREDIT:
INTRO: Pink Floyd (Comfortably Numb)/Venemy & Aznar ft. Doubletake - Reign
Jvckin - Feel Like Rain (ft. Faithroze) (Magic Free Release)
heartblake - Your Eyes (prod. SOGIMURA) [No Copyright]
Vinsmoker, Marin Hoxha - Everything I Wanted (ft. Maria Beyer) (Magic Cover Release)
Mike Vallas, Jagsy & quaggin. - Left My Heart In Pain [NCS Release]
Spectrum - Lost My Way (ft. Alina Sona) | ♫ Copyright Free Music
Tom Wilson - Be Myself (Lyrics)
OUTRO: Torin - Tubular Bells [Dark] [Non-Copyrighted Music]
____________

MUSIC FOUND ON YOUTUBE CHANNEL(S):
Magic Music
FMD - No Copyright Songs
NoCopyrightSounds
FreeMusicWave - No Copyright Music
Cruisin Lyrics

___________

MUSIC GENRE(S):
Dubstep/House/Trap/R&B/Pop/Rap/Country/No Copyright Songs

____________

Disclaimer: I do not own the music, Gifs nor Memes. No copyright infringement intended. For entertainment purposes only.

____________


SESHING MEDICALLY WITH THE GOTHIC WARLOCK LORD AND SIMPLY VIBING (4 *NEW* STRAINS)



01:05 Mar 26 2022
Times Read: 107


Greetings,

In this Episode, back on Saturday, March 12th, 2022, I celebrated 5 Years of uploading Cannabis Content to my YouTube Channel and I've never had an issue with YouTube by doing so.

I medicate using 3 medicating devices of which 2 are new.

Enjoy!

____________

MED DEVICE(S):
Recycler Themed Medicating Device
Unique Blue Color Themed Medicating Device
Lilka Classica Ceremonial Pipe Medicating Device
____________

MEDS:
Peanut Butter Breath - (URSA)
Tangie - Moonrocks (Galaxy)

____________


MUSIC CREDIT:
INTRO: Pink Floyd (Comfortably Numb)/Venemy & Aznar ft. Doubletake - Reign
Shinedown // MONSTERS // LYRICs
Lady XO - "My Obsession" (Official Audio)
Ciara - Paint It, Black (Official Audio)
Justin Bieber - For You ft. Chris Brown & DJ Khaled (Official Video)
Lady XO - "Too Much" (Official Audio)
Amaarae - Sad Girlz Luv Money Remix (Lyrics) "I really like your party, I really like your body"
Eurythmics, Annie Lennox, Dave Stewart - Here Comes The Rain Again (Remastered)
OUTRO: Venemy & Aznar ft. Doubletake - Reign [NCS Release]
____________

MUSIC FOUND ON YOUTUBE CHANNEL(S):
Miss Redd Lyrics
Lady XO
Ciara
9jaFanx
Dream Music
Eurythmics

___________

MUSIC GENRE(S):
Dubstep/House/Trap/R&B/Pop/Rap/Country/No Copyright Songs

____________

Disclaimer: I do not own the music, Gifs nor Memes. No copyright infringement intended. For entertainment purposes only.

____________


SESHING MEDICALLY WITH THE GOTHIC WARLOCK LORD (BONUSV: 5-YEARS / 2 NEW MEDICATING DEVICES!!!)


22:08 Mar 22 2022
Times Read: 125


Greetings,

In this Episode, I feature two (2) NEW Medicating Devices as I simply wanted to hop on and Sesh for Endorphins.


Enjoy!

____________

MED DEVICE(S):
Recycler Themed Medicating Device
Unique Blue Color Themed Medicating Device
____________

MEDS:
Tangie - Moonrocks (Galaxy)
Hardcore OG - (Hybrid/Indica Dominate)
Blueberry Shortcake - (Hybrid/Indica Dominate)
Rainbow Cake - Live Resin (Indica)

____________

MUSIC CREDIT:
INTRO: Pink Floyd (Comfortably Numb)/Venemy & Aznar ft. Doubletake - Reign
Besomorph & Miles Away - you should see me in a crown (feat. braev) [NCT Promotion]
AERØHEAD - Lights of Elysium [No Copyright]
Post Malone - Take What You Want Remix by Nate Cadillac [ Copyright Free ]
Post Malone - Hollywood's Bleeding (BLKCUBE Trap Remix) [No Copyright Music]
SexyBack - Justin Timberlake [No Copyright]
Art of Silence - Dramatic / Cinematic [Free to use]
OUTRO: Torin - Tubular Bells [Dark] [Non-Copyrighted Music]
____________

MUSIC FOUND ON YOUTUBE CHANNEL(S):
NCT No Copyright Tracks
FMD - No Copyright Songs
Nate Cadillac Made It
MSKD Sounds
Copyright Free Music For Content Creators
Uniq

___________

MUSIC GENRE(S):
Dubstep/House/Trap/R&B/Pop/Rap/Country/No Copyright Songs

____________

Disclaimer: I do not own the music, Gifs nor Memes. No copyright infringement intended. For entertainment purposes only.

____________


SESHING MEDICALLY WITH THE GOTHIC WARLOCK LORD AND SIMPLY VIBING (2 *NEW* MEDICATING DEVICES)



14:26 Mar 18 2022
Times Read: 161


Greetings,

In this Episode, I feature my Lion & Dragon Themed Sword and use it as a Dab tool while also wearing my Lion, Pot Leaf, and Ankh Themed Crown.

Simply Don't Give A F*ck Themed Video. LOL!

Enjoy!

____________

MED DEVICE(S):
Blue & Purplish Color Themed Medicating Device
Duck & Mushroom Themed Medicating Device
____________

MEDS:
Cherry Gelato - (Crumble) (Atonic) (Hybrid/Indica-Dominate)
Purple Punch - (Shatter) (Atonic) (Hybrid/Sativa-Dominate)
Do-Se-Dos - (Shatter) (Atonic) (Hybrid/Indica-Dominate)
Cookies & Cream - (Herb)

____________

MUSIC CREDIT:
INTRO: Pink Floyd (Comfortably Numb)/Venemy & Aznar ft. Doubletake - Reign
Besomorph - Lost In Translation (feat. Veronica Bravo)
Besomorph & Silent Child - IDGAF [Lyric Video]
Besomorph - Lovely
Besomorph & Behmer - What I've Done (ft. Lunis)
Besomorph & N3WPORT - Zombie (Zombic & Felix Schorn Remix)
Besomorph & The Tech Thieves - Anxiety [Lyric Video]
Besomorph - Dead to Me (ft. Neoni & M.I.M.E)
OUTRO: Torin - Tubular Bells [Dark] [Non-Copyrighted Music]
____________

MUSIC FOUND ON YOUTUBE CHANNEL(S):
Besomorph

___________

MUSIC GENRE(S):
Dubstep/House/Trap/R&B/Pop/Rap/Country/No Copyright Songs

____________

Disclaimer: I do not own the music, Gifs nor Memes. No copyright infringement intended. For entertainment purposes only.

____________


SESHING MEDICALLY WITH THE GOTHIC WARLOCK LORD AND SIMPLY VIBING (EP: #74 LION & DRAGON SWORD)



14:23 Mar 18 2022
Times Read: 164
04:55 Mar 13 2022
Times Read: 199


Greetings,

* VOMIT ALERT *

In this Episode, I wanted to just hop on for a quick sesh and ended up over-medicating and barfing. LMAO!!!

Enjoy!

____________

MED DEVICE(S):
Two Water Chambers Themed Medicating Device
Honey Bee Themed Medicating Device

____________

MEDS:
Garlic Grove - Badder (Next Green Wave) (Hybrid/Indica Dominate)
Lava Breath - Herb (Grizzly Peak) (Sativa)
____________

MUSIC CREDIT:
INTRO: Pink Floyd (Comfortably Numb)/Venemy & Aznar ft. Doubletake - Reign
Chris Brown - Next Time Again Ft. Drake & Usher, Post Malone ( New Song 2022 ) ( Offical Video )
Lady XO - "Aces" (Official Audio)
Joe Maynor- Say Less Ft. Mike Sherm (Music Video)
Chris Brown - Zero Lyrics Track 6 (Royalty Album)
OUTRO: Venemy & Aznar ft. Doubletake - Reign [NCS Release]
____________

MUSIC FOUND ON YOUTUBE CHANNEL(S):
9,45,669 views
Lady XO
MikeSherm
Selina Something

___________

MUSIC GENRE(S):
Dubstep/House/Trap/R&B/Pop/Rap/Country/No Copyright Songs

____________

Disclaimer: I do not own the music, Gifs nor Memes. No copyright infringement intended. For entertainment purposes only.

____________


SESHING MEDICALLY WITH THE GOTHIC WARLOCK LORD (BONUS VIDEO: VOMIT ALERT!!!)



07:24 Mar 12 2022
Times Read: 235

Greetings,

In this Episode, I feature my Snake Eyes Themed Sword and use it as a Dab tool.

Enjoy!

____________

MED DEVICE(S):
Two Green Apple Color Themed Medicating Device

____________

MEDS:
San Fernando Valley OG - (Live Resin Batter)
____________

MUSIC CREDIT:
INTRO: Pink Floyd (Comfortably Numb)/Venemy & Aznar ft. Doubletake - Reign
DJ KHALED - WILD THOUGHTS INSTRUMENTAL (FREE DL) - BEST VERSION
Ninja Theme - Royalty Free - { Non Copyrights Music }
Besomorph & RIELL - Selfish
Besomorph - Careless Whisper
Besomorph - I Need A Doctor
Besomorph - Playing With My Heart (feat. KARRA)
Besomorph & Anthony Keyrouz - Apologize (Behmer Remix) (ft. Lunis)
OUTRO: Torin - Tubular Bells [Dark] [Non-Copyrighted Music]
____________

MUSIC FOUND ON YOUTUBE CHANNEL(S):
Royal Raven Music
Tennilkar Creations
Besomorph

___________

MUSIC GENRE(S):
Dubstep/House/Trap/R&B/Pop/Rap/Country/No Copyright Songs

____________

Disclaimer: I do not own the music, Gifs nor Memes. No copyright infringement intended. For entertainment purposes only.

____________


SESHING MEDICALLY WITH THE GOTHIC WARLOCK LORD AND SIMPLY VIBING (EP: #73 SNAKE EYES SWORD)



06:43 Mar 12 2022
Times Read: 237


Jamming...



13:08 Mar 11 2022
Times Read: 258

TheWeedTube






is now simply







The rebranding is, I believe, due to Weed content being CENSORED on a number of platforms specifically IG, FB, and YT when involving 'Content For Profit'. Also, the company had to reduce its obvious logo profile to become more 'mainstream' marketable.
14:06 Mar 05 2022
Times Read: 279


Greetings,

In this Episode, I sample 3 new concentrates and 1 new herb while simply vibing to the music.

Enjoy!

____________

MED DEVICE(S):
Cover Cresent Moon Themed Medicating Device w/E-Nail set to 555 Degrees.
*New* Skull Themed Medicating Device
____________

MEDS:
Ice Cream Cake - Badder (Atonic Extract) (Hybrid/Indica Dominate)
Zookies - Crumble (Atonic Extracts) (Hybrid 50/50)
Slurricane - Crumble (Atonic Extracts) ( Indica)
Lava Breath - Herb
____________

MUSIC CREDIT:
INTRO: Pink Floyd (Comfortably Numb)/Venemy & Aznar ft. Doubletake - Reign
Besomorph & N3WPORT - Falling (ft. Meo)
H.G Rambo - 99 Problems [No Copyright ► Rap]
H.G RAMBO ~ Want From Me Feat H.G Donye [ No Copyright © Rap ]
Hurshel - Pleading In Love | ♫ Copyright Free Music
Egzod, Maestro Chives, Neoni - Royalty [NCS Lyrics]
Shadow Cliq - Afterlife (Magic Free Release)
OUTRO: Torin - Tubular Bells [Dark] [Non-Copyrighted Music]
____________

MUSIC FOUND ON YOUTUBE CHANNEL(S):
Besomorph
Rap & Trap - No Copyright Songs
FreeMusicWave - No Copyright Music
NCS Lyrics
Magic Music

___________

MUSIC GENRE(S):
Dubstep/House/Trap/R&B/Pop/Rap/Country/No Copyright Songs

____________

Disclaimer: I do not own the music, Gifs nor Memes. No copyright infringement intended. For entertainment purposes only.

____________


SESHING MEDICALLY WITH THE GOTHIC WARLOCK LORD AND SIMPLY VIBING (BONUS: NEW MEDS 4 STRAINS)



11:03 Mar 05 2022
Times Read: 293


When you have injured lungs and that chronic gets you like....


REAL VAMPIRES LOVE VAMPIRE RAVE
Vampire Rave is a member of
Page generated in 0.1451 seconds.