The next generation, the Saga continues

by
Beast

Roleplaying at Hogwart's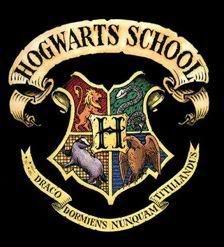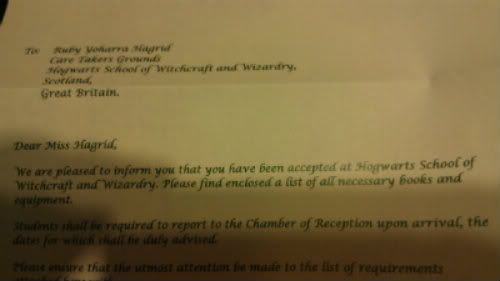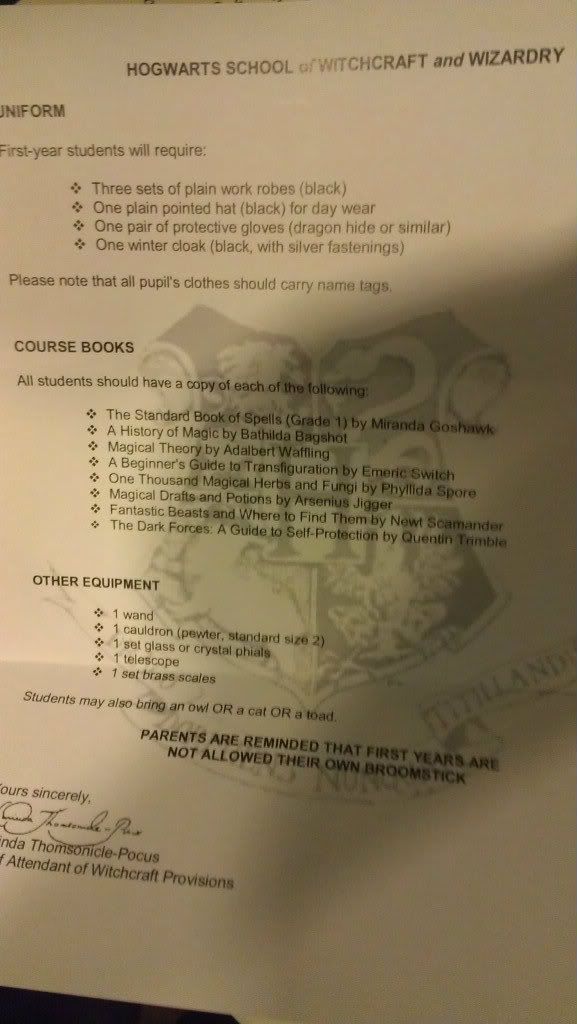 The school year is beginning. Back to school with all my friends. Some new faces at the train station. Papa decided I should meet at the train station like everyone else even though I live on school grounds.

I spotted Ceddy, Rose and that new kid Kiril, the one we called Kitty. Arrietty wasn't there. First year students Albus, Hugo and Lily were joining us this year. Ceddy was glad to see Teddy again. Of course Scorpius Malfoy was there. He was mouthing off about the Weasley's breeding like rabbits. Ruby calls him the albino roach.

Thought we would be thrown off the train. Ruby ripped the door off of the cabin and cast a spell of epoximise that stuck him to the floor while she hit him. It was awesome! Not many want to mess with Ruby.


Students -
Cedrella- daughter of Angelina and George Weasley
Rose- daughter of Hermoine and Ron Weasley
Ruby- daughter of Olmpe and Rubeus Hagrid
Arrietty- daughter of Tristen (Trick) and Kensia Grimm(Black), deceased, godfather and guardian Prof Flitwick
Kiril- son of Viktor and Jannah Krumm
Randal- son of Alys and Theodore Hawke
Marcelle-daughter of Marguite and Gerard Qasim

School calendar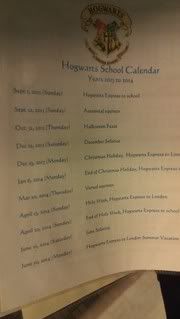 Returning students like Ruby and Ceddy were 3rd year students and old friends. Ruby had grown up with most of the Weasley offspring. Ceddy had a "magic business" that has been quite profitable. Ruby is the muscle because of her size, being a half giant.

The school year began. Rose was curious about the new Prof. Harker. She thinks he is a vampire. No one else really cares because he is so dreamy. Kirel has some conspiracy issues. He thinks someone is after him. He noticed wanted posters being ripped up around town. He wants to investigate. There was a break in at the Ministry of Magic. We may have to become the Scooby gang and check it out. Wow, Ruby has a boyfriend. Neville's son, Xen, seems to like Ruby.

Peeves was up to no good with his practical jokes. He put glue on everyone's bed. We woke up being stuck to the bed. Ruby tried pulling the sheets off and she pulled her skin off. Some of the others tried using spells to clear up the glue problem. Ruby, on the other hand said "I'm out of here". She headed back to the Hagrid cottage where papa had the cure all for the glue. Mama took care of her wounds.

After Ruby was all cleared up, her parents had the serious talk about inviting Xen and his parents to get to know them. I guess Papa let the cat out of the bag. As much as Ruby tried to discourage them saying Xen was just a friend, it was Ruby's first boy.

They finally decided to throw a big party for the whole school to meet the Longbottoms.Howlers were sent out to all.

Meanwhile, Kirel and Rose continue to investigate the poster mystery. Ceddy just wants to investigate Teddy.

In the news-





Big event at the school -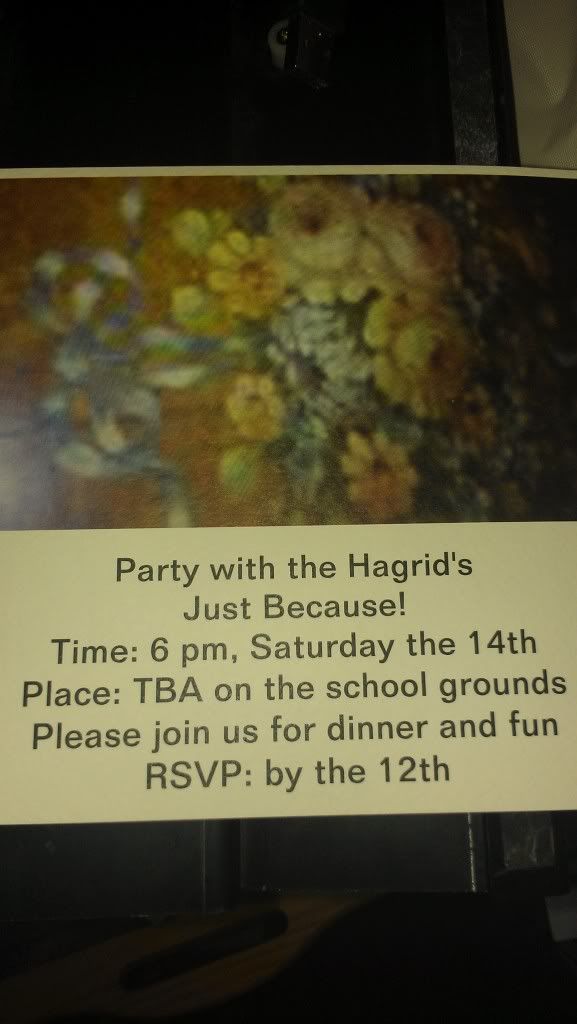 Chapter 2 The Uninvited Guest

Everyone was busy getting ready for the big party.. Dexter, the monkey, brought up a note to Ceddy, supposedly from the monkey saying he could not attend the party but someone else was going in his place. Ceddy wondered if it was a joke or it must be Teddy of course. Guess she would find out when that someone came to pick her up.

Kiril was bringing the shy Cathy, James' sister, another Weasely. She never spoke, just giggled. Should be an interesting night with big protective brother watching over. Albus was going with Rose. Then there was Xen who was going with Ruby. That's what this party was all about. To meet Xen and his parents. No pressure of course!

Rose was also bringing the moving picture of Prof. Dumbledore to the party. Should be quite a party because we know Madame Maxine will go all out for her "little" girl.

The party was a huge success. Amazing to say the least. Madame Maxine went all out. There were pixies serving drinks, floating candles and an enchanted ceiling with stars.
The cake was 3 tiers, looked like a wedding cake with cupids and hearts. Printed frosting said "Just Because". There were various wizard bands, including the Weird Sisters. Dumbledore even had a party hat.

There was an uncomfortable spotlight on Ruby and Xen that followed them around the dance floor. Ruby cast a spell and brighten up the room. Rose and some of the others did light spells as well so it wouldn't be so obvious. Meanwhile Xen was amused by it all.

When it was time to cut the cake, Hagrid made a toast. The cake exploded. Rose and Ruby noticed Scorbius Malfoy and his buddies hiding in the shadows. Hagrid and some of the teachers went after them. I see some suspensions coming. Ruby's mother was upset but everyone assured her it was a great party. No one had ever seen an exploding cake.

Next day we woke up to news that Teddy had been attacked on the way up from the kitchen. An intruder!
We all went with Ceddy to check on him. He had no memory of what happened. His clothes were bloody and he was injured from spells. Ceddy wondered if he had changed to wolf form as a defense. The intruder was no where to be found.

All we could get from Teddy was that his attacker looked like the person from the wanted poster in town. Why was he here? Why the attack? From our little investigations thus far, it seems he was a former student. We got some traces of blood from Teddy's hands and Ruby's familar was able to track the scent to Wailing Mytle's bathroom. So now we know how he got in and was able to move around the school.


The next day-

A family meeting is called by Fred. This includes all the Weasleys, even Arrietty is related. Most of the school are red heads. We are either related by blood, marriage or friendship. It is decided that we need to take revenge against Scorpius. He can't keep getting away with his bullying.

Fred already has a sleeping potion What we need is a shrinking potion just in case if needed for Ruby and Kirel. The potion preparation is a group effort by Kirel, Ruby and Marcelle. Meanwhile Arrietty makes a healing potion for Ceddy. Kirel works on a potion to change his clothing when he shape changes.

Marcelle charms a stone to use as a warning devise as we stand guard if the Slytherins find out and question why we are hanging around near their dorm. Ceddy's group makes it to the boy's doem.Kirel shape changes to look like a Slytherin student. Rose goes in under the cloak of invisibility with Albus.

Scorpius was sleeping but Ceddy gave him the sleeping potion to keep him sleeping. Kirel shrunk him and Rose carried him under the cloak.

Meanwhile, Marcelle and Ruby were "standing guard duty". One of Scorpius gang came along and questioned why Gryffindor students were at Slytherin. The story was that we were heading to huff puff to meet someone when we got side tracked by Peeves. We got lost and lost our familiars in the process. We charmed her so she would believe it.

She left but then Peeves came along. We told him the same story, however he didn't buy into the story. Charm didn't work on him. He told us to leave, so we moved around the corner.
Meanwhile the others managed to get out with Scorpius. We all met up in an empty classroom with Fred. We dress Scorpius up pink baby clothes, put him in a crib and send him away in the abandonment closet.

Chapter 3 The Keeper's Tale

The talk in the morning was that Scorpius was missing. Really, wonder what happened? Lol, hard to keep a straight face when thinking of baby Scorpius. Serves him right.

A class trip was planned for the Ministry of Magic today with Professor Harker. We made it to the aura office and we were met by Harry. The plan was to go to the training room for auras. When we get there he slides out a trunk with a bogart in it. You have to face your biggest fear. Only the spell "ridiculous" will make it go away. Always remember it isn't real, it's a test. Hard to do that when you are terrified.

Ceddy goes first. She faces loneliness. A hard thing for her because she is always surrounded by the big Weasley clan. She cases ridiculous and is suddenly surrounded by family.

Ruby follows. She is surrounded by village people with torches and pitchforks. Reminds her of those old monster movies . Only this time they are after her, shouting freak, animal, monster, etc. It looks like her father , Hagrid, is strung up to be torched. Ruby tries to reason with the villagers to no avail. She shouts ridiculous and turns the lynching into a "Just because" party.

Marcelle goes next after Ruby. Her idol Hermione tells her she will never amount to anything. That Marcelle is weak, that she will never impress Hermione. Marcelle starts to cry. Her ridiculous spell doesn't work.

Kirel goes next. Kirel is faced with his father getting beaten up by an unknown person who keeps stalking him. He is frozen with fear until he gets enough courage to shout out ridiculous and turns the villain into a circus act with jugglers.

Rose faced the man from Albus' fear. She turned him into a spider. She hates spiders but fears Albus's stalker more.

The afternoon class using the exspellonmos spell went by without much happening.

When we were ready to leave to head back to school, Rose, Ceddy and Kirel decided to stay and have dinner with their parents.

Marcelle and Ruby headed into the elevator. The elevator got stuck on the 5th floor. They got out and noticed one of the elder wizards they saw before talking about the break ins. They went into the room he had just came out of. After they made sure he was out of sight.


So Ruby and marcelle went in to find a pensieve in the room.
A pensieve is a magical repository of memories. It is
Actually a stone bowl with runes on it. It is filled
With a silvery white liquid. It is like a walk through
Of someone else's memories. Ruby and Marcelle both
Looked at each other, well what should we do?
Then they both put their faces in the bowl.

They saw the elder wizard in the room facing a
Vault. Someone came up behind him and use a spell on him.
He never saw the face but just saw blackness after he was attacked.


class program




Meanwhile Arrietty and Alesstra were having problems of their own. On the way back from game, they noticed a shadow lurking in the hall. They followed it of course. It went into the room with the disappearing door. They didn't know the spell to enter. They waited till the shadow person came back out and followed him to the secret entrance by the Chamber of Secrets.

Arrietty went to get Prof. Flitwick, her Uncle Fil. He would know how to get into the secret room.




Ceddy and friends managed to save an aura from the house in shadows. They barely made it back but the way back landed them in detention.

The wedding date for Gawp and Gronga is Nov. 5th. Some of the giants will be arriving soon. Ruby thinks she needs about 20,000 lbs. of flour for the big cake to feed all the giants.


When we aren't chasing death eaters, we do play-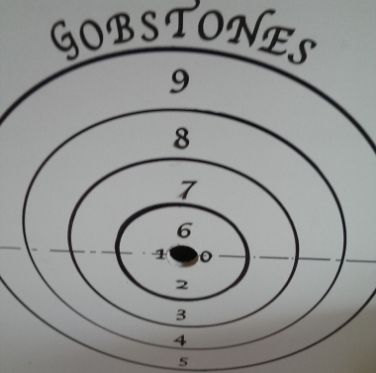 Sir Nick had his Deathday party. Peeves tried to blow up the party because he wasn't invited. We ate before we went because all the food was rotted. Ghosts don't eat so all the food is "dead like them".

Not quite sure if there will be a giant wedding. Such a shame with Ruby practicing a speech in giant language.



All pages by Beast
Page last updated: Mar 11 2014


---
REAL VAMPIRES LOVE VAMPIRE RAVE
Vampire Rave is a member of
Page generated in 0.0332 seconds.