Some helpful hints from the Travelling Bastard...
03:51 Jun 10 2008
Times Read: 978
Today's lesson… how not to return your car to the rental facility.


First, you should probably be going less than 50 MPH on the return ramp. Second, you should be aware of other vehicles in the road and NOT hit them.


Please review the following image for futher detail...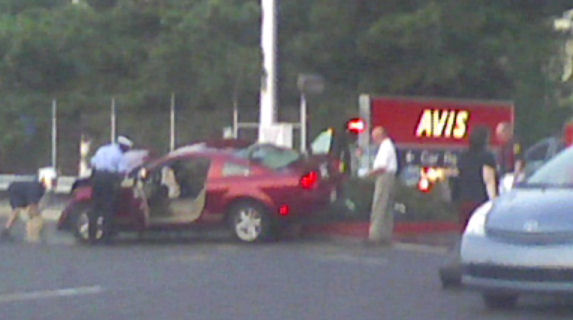 Ok, granted a fender-bender occurred just moments before your hasty arrival, but the judicious use of common sense in this case would have kept a small accident from becoming a calamity.
You… ma'm… are an idiot.
So today's tale is brought to you in it's enitrety by the fine folks at the Philadelphia Airport, and more specifically, the Avis rental facility there.
The accident is just one small part of the story.
My flight into Philadelphia actually went on-time, although I really don't remember much of it because I basically fell asleep taxiing in Buffalo and woke up upon touching down in Philadelphia.
My usual.
I have so few memorable events or conversations on flights, and judging by the dolts sitting next to me, this one wasn't going to break any records. So why not get some well deserved sleep?
I made my way through the airport, which can be a challenge in itself. I was stopped by this middle-eastern man, a limo driver, holding his sign for the passenger he was sent to pick up.
He said something completely unintelligible to me in a quiet voice that was completely obscured by the din of the airport around us. I asked him to repeat himself, and he said it the same way again. The third time I made it out, "Are you from Jacksonville?"
"No."
I walked away.
The point of that was?
Anyway, out at "Zone 2" where the rental car shuttle busses pick up, there was a mob of people standing there waiting. I guessed that they were all waiting for an Avis shuttle since they always seem scarce at this airport.
Hertz drove by twice… Thrifty… Budget… Alamo… another Thrifty… another Hertz… another Budget… ahh! There's an Avis. But the bus stopped about 200 feet from the pick-up location. Why? Because the driver had to block traffic for five minutes and have a conversation with the driver from one of the city busses picking up in "Zone 1."
Lovely.
He finally made his way to "Zone 2" and whaddayaknow, two more Avis busses were stuck right behind him.
Everyone got on the bus. The driver took all the Preferred members' names and wrote them down. No handheld? No comm-link to dispatch? No… according to him there is a 40 minute wait for cars and no one has been assigned one, not even Preferred members.
Which, kind of defeats the entire purpose of being a Preferred member. But he assures us, Preferred members won't have to wait "as long."
So we arrive at the Avis terminal, and the line at the Preferred counter is about 35 people deep, winding out of the building and into the parking lot. It is 92F in the parking lot. Fat white people are melting as they stand there.
After about 30 minutes of standing in a line, which is not moving a bit, they send a young man with a name tag that reads, "Trainee" out to calm the restless masses. Boy, that was brilliant. Send someone who has NONE of the answers out to answer everyone's questions.
My only question was, if they have a parking lot full of cars, and we're all preferred members with reservations, why are we not getting cars?
His answer was… "Uh, well, see... we're cleaning cars, and giving those to the preferred members so you get cars faster…"
"Ok, but there are all these other cars here. Who is getting these cars?"
"Well, members who have reservations and… I… I think they've all been assigned to people already."
"Well, I'm a preferred member, and I have a reservation, so how do I know one of these hasn't already been assigned to me and I'm standing here for absolutely no reason?"
"Well, no one has cars assigned…"
"But you just said all these other cars are assigned to people…"
It went round and round like this for a bit until I told "Trainee" to go get a manager. Another man, equally perturbed left his spot in line to also demand to see a manager.
By the time a manger came around, I had made it into the building. The other man who demanded to see the manager got to discuss the situation with the manager just minutes before it was his turn at the counter. He was assigned a nice, shiny, black Lincoln Towne Car and drove off happily into the sunset.
His happiness lasted only a few minutes. As he exited the rental facility, he was broadsided by another vehicle. Then the rocket scientist in the Mustang trumped both of their stupidity by flying into the melee and putting her car up on a concrete post.
This of course prompted EVERY SINGLE Avis employee to go running to the road… to stand… and watch. Useless to the accident scene and not doing their jobs to take care of the rest of the customers who still needed cars.
EVERY SINGLE employee. Yes, even the ones at the desk.
Well, true to their word I had my car within 90 minutes of arriving at the airport.
And when I got to my car, my contract, was already sitting on the dash board. Yes, my car had been assigned and I could have left with it LONG before this… if anyone working there would have pulled their head out of their ass for a minute and perhaps asked for the last names of the people standing in line, which the shuttle driver apparently never gave to anyone.
Awesome job folks. Way to put your customers First.
I need some wine… and sleep…