by
nips






What started out as a road trip for the guys became so much more. Our friend Paul was recently diagnosed with cancer. At first Paul was trying to tie up loose ends before anything happened. Once he was he was in remission he decided that there were things he wanted to do and things he wanted to see. Paul got his own car and made a bucket list. At first I thought this to be rather depressing, but i realized it gave Paul a new lease on life.Thus began our road trip adventures.

First trip was to Phili. to find the perfect cheesesteak. You also have to understand our crew. Paul, who has a new lease on life, me( the token girl), Tom who has a fear of leaving the house and meeting people and hubby Dave who is just Dave. The guys all have comics, geekness, scifi and horror in common. Ok, I am up with the geekness but not on the same level as the guys.

Phili Trip-





The next trip was to Boston. Dave couldn't go because Amber, our puppy, just had surgery on her knee. Dave didn't want to leave Amber in case of her jumping off the bed. So I thought it would be cancelled. No Dave. I don't know as much about comics or Dr. Who. What could I talk about? Work, oh hell no!

They didn't cancel. I had an awesome time. We went to the Maporium which is part of the Christian Science center. Awesome place. The building is a globe that you walk through. If you stand at one end and whisper, they can hear you clearly at the other end.

We met up with a fellow Wing Chaun student. We ate in a Thai place. My first time. We watched Sean and Paul practice their Wing Chaun. We checked out the organ at the Christian Science Center. Then went to see the home of the Red Sox. Tom was in heaven.

Had a great time with the guys. Next trip might be Baltimore. Looking forward to it. Hope Dave can go . It is a journey of a lifetime for all of us. Paul is enjoying life. Tom is coming out of his shell. Me, I don't feel uncomfortable that they only want it to be a guy hang out.








Next trip will probably be the Thanksgiving weekend to the Edgar Allan Poe Museum before they close it.
It is definitely set for Nov. 26th. In the meantime we had Grandma's 90 th birthday. We have a very strange extended family. Although Paul is the ex of Roe, Beast here, and Roe is marrying Matt soon, we are all family. Paul actually brought Grandma to the surprise party. We had a great time and Grandma was so happy with the family reunion.






Next trip to Baltimore is a sleepover. Too much of a drive even for Paul. What happens in Baltimore stays in Baltimore, hehe! They want to share a room like we did for Gencon. Ten in a room and take turns crashing. I don't know about that! Will have to think about that. Meanwhile, trip is posponed till after holidays.

Meanwhile Paul found a larger apartment. He seems to be healthy. The apartment is back in Hoboken where he lived with Roe. It has a pool. There may have to be pool parties included in my Road Trips with Paul. Just hope the healing begins for Paul and that he realizes it's time to move on.

I have to say that I really don't understand what's goes on in Paul's head. Some think he is just insane. He didn't take the gorgeous apartment with the pool that was cheaper and closer to the train. Some people would die for this place. He decided to go back to the old place which is more expensive and he has super duties. Go figure!

The weather is getting nicer so more road trips may be planned. We just saw Paul this weekend. He plans to sky dive again in June. This one might be just the boys. Dave is dying to go. I have a fear of heights so it's no way, no how. However Paul wants us to do koanoke with Tom. Says Tom 's multiple personalities come out when he is on stage. I'm looking forward to it.


Have to say that Paul is looking good. Glad he is sticking to health regiment. Added to his bucket list is mountain climbing. I can see some of the road trips with be just the boys.

We started planning our next road trips. Baltimore is a definite but Tom wants to go back to Phili to see our friend Rene who makes an awesome cafe with whipped cream art on top. It probably won't be until July but it gives us time to plan. Not sure if Davey is going since he doesn't want to leave Amber alone.

Looks like July 28th will be the next road trip to Phili.


It did happen and it was great. These trips have done a wonder for Tom. He is like a whole new person. He is taking driving lessons and he is publishing a book. Paul has a new girlfriend, Erica, who went with us. It was an awesome trip.

Tom has friended Rene , our artist coffee maker, on Facebook so Rene knew we were coming. Rene is a character. He plays drums, makes his own chocolate and inspires Tom to "make it happen". That's his catch phase for everything. His cafe is loaded with Grandfather pictures , only it's him ,not Marlon Brando.

His coffees is beautiful with a picture on top, canolas are almost sinful and his signature volcanos you could die for.
Erica had a volcano and desert. She was sweating from it, hehe. We probably put on some pounds but worth every bit and sip.

We also saw the Liberty Bell and Independence Hall. We plan another trip to bring Tom's published book to Rene. Tom plans to add Rene to his book. Next time we might see the Mint and go on Duck tour.





As I get more pictures from Paul, I will add them. That's all I had . My phone battery was low.





Next trip planned is back to Phili. for the Mummers Parade on New Year's Day. It's a tradition there. Dave always talked about it. He went to it when he lived there. My mom also loved the mummers. Can't wait!

Tom says "Dude, you know I'm always down for another visit to Philly!"


We had to cancel the trip to Philly because of Dave's serious illness that landed him in the hospital for Christmas and New Year's. Lucky Dave is better and my road buddies were able to make it to my zombie birthday party.






Hope I'm not the dinner!

No road trips planned. Maybe in the spring. Tom is working on his next book. Dave is doing the art and props for his book characters.


As it turns out we are planning a new road trip June 22nd to celebrate Tom and Dave's birthdays. Will have to stop at Rene's coffee shop for special birthday coffee.

Paul plans to visit a Magic Garden, an art gallery with mirrors on the wall and a prison. Dave wants to visit an underground mall. I just want a road trip!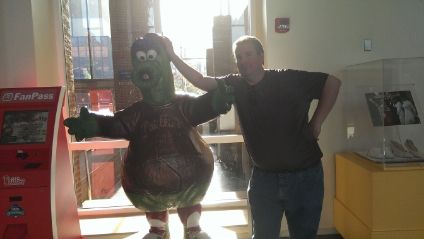 Awesome way to celebrate the guys' birthday. of course we stopped in to our old friend Rene at our favorite coffee/chocolate place. He whipped up a special birthday surprise for the guys in a giant martini glass with 4 straws for all of us.

We also checked out a art gallery that I mentioned that we were planning to visit. It was just amazing. There were tiles and broken mirror pieces all over the walls. We had to visit it because it was a similar art style of Dave's ex who still lives in Phili.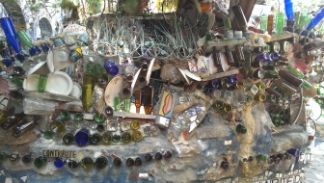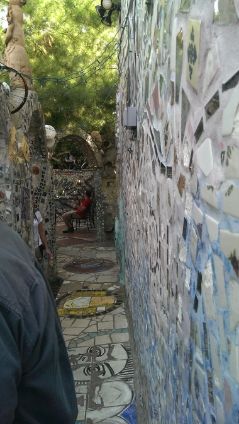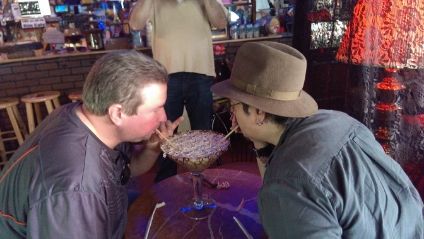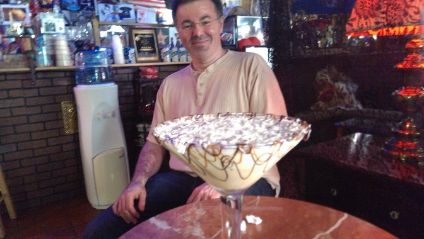 Next trip planned is a drive in. Paul and Tom have never been to one. So it's on. Hope they are better than the ones I saw as a kid. You had to sit on a blanket outside and it was so dark you still couldn't see it. And those sound boxes never worked. It should be a goof though.



Paul!






Mini road trip planned for our anniversary with Paul to find the magic soup balls that melt in your mouth. Dave has been dreaming of them. Don't ask me. It's a little odd but that's Dave.


Grandma's birthday!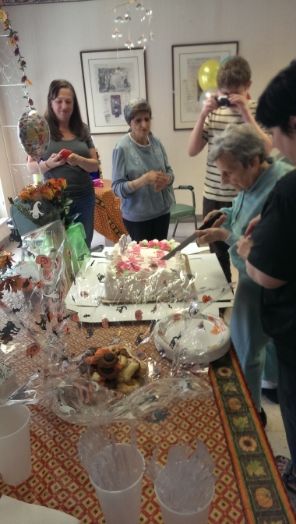 No road trip but we are getting together in Feb. Sad to say that Paul is getting rid of the car so road trips will be with a bus. At least we will see each other. We can still hang and do geeky things. Maybe a Dr. Who marathon.

Paul did sell his car. He found a bar that does Dr. Who theme night that we plan to check out.

Godzilla with Paul! No pictures this time but next hangout is Chinatown for soupballs, Dave's fav. Loved seeing Godzilla. Daddy would have loved it.


Lastest adventure with Paul was the Halloween parade in NY's Village









All pages by nips
Page last updated: Nov 02 2014


---
REAL VAMPIRES LOVE VAMPIRE RAVE
Vampire Rave is a member of
Page generated in 0.0836 seconds.